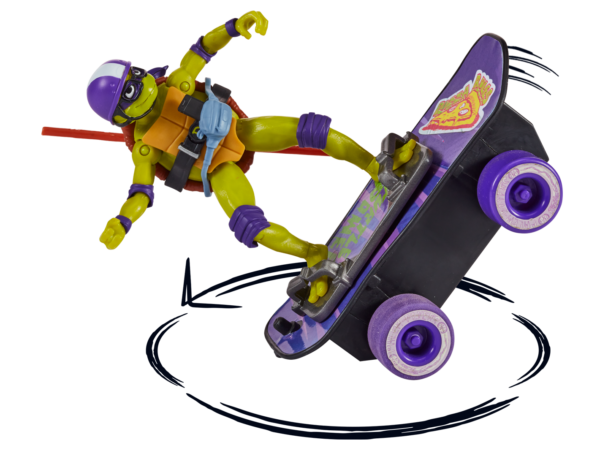 Build N' Shred Skatepark w/ Skater Donnie
The Teenage Mutant Ninja Turtles are one mean, green, skateboarding team! After Donatello leaves the sewer with his brothers, they run into some mutant mayhem in the big city. Help Donnie shred the competition and carve out some family time along the way with his skateboard full of tricks and ramp accessory!
EXCLUSIVE DONATELLO: Authentic Donnie figure stands 4.5″ tall and is highly poseable, with 12 points of articulation for super shredding poses! He comes wearing a (non-removable) skateboard helmet and his signature bo staff!
BUILD A PARK: You can customize and create your own unique skatepark by cutting out the packaging's chip board cutout figures and accessories!
PUT THEM TOGETHER: Purchase all 4 Teenage Mutant Ninja Turtles Build N' Shred Skatepark sets and snap their ramps together to create a complete skatepark!
COLLECT THEM ALL: Collect all the TMNT Mutant Mayhem action figures and accessories from Playmates Toys, your Teenage Mutant Ninja Turtles Toy Headquarters!