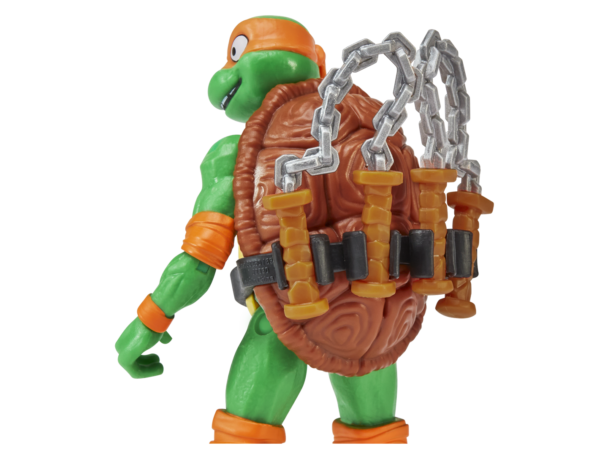 Michelangelo: The Entertainer
Get ready for the Mutant Mayhem figures and accessories, based on the new CG animated Teenage Mutant Ninja Turtles movie! Tap…tap… "Is this thing on?" Michelangelo's the funny one of the group or at least he thinks so! (Sometimes his brothers are a tough crowd.) With some training from his rat-dad Splinter, Michelangelo and his brothers are finally ready to venture into the big city, where Mikey can test out his material. Nothing will come between him and his dream to be a stand-up comedian, even if the only positive feedback he's getting is from the microphone!
AUTHENTIC: Mikey stands 4.25″ tall and is highly detailed with individual sculpting and decoration to match his movie character.
HIGHLY POSEABLE: Mikey has 12 points of articulation for great, action-packed battle poses!
ACCESSORIES: Mikey comes ready for battle with his iconic nunchaku, a separate weapons rack loaded with lots of different accessories, and a baby turtle.
Hey, if you're eating pizza, you need your hands free! Mikey can slip his nunchaku into his special shellback belt and chow down!
MOVIE PACKAGING: Mikey comes in a highly decorated blister card package with bright, bold details that includes TMNT Mutant Mayhem movie branding.
Collect all the TMNT Mutant Mayhem action figures and accessories from Playmates Toys, your Teenage Mutant Ninja Turtles Toy Headquarters!