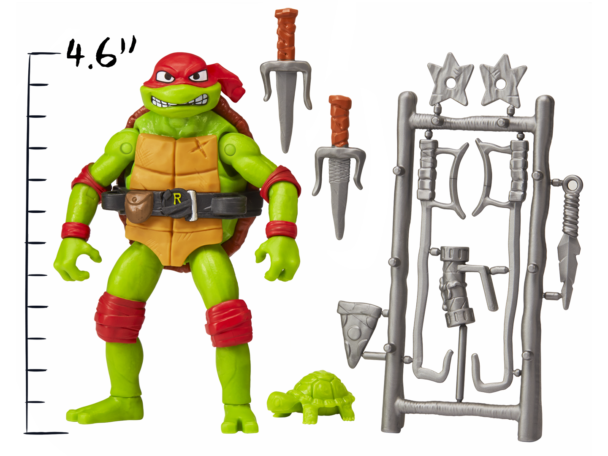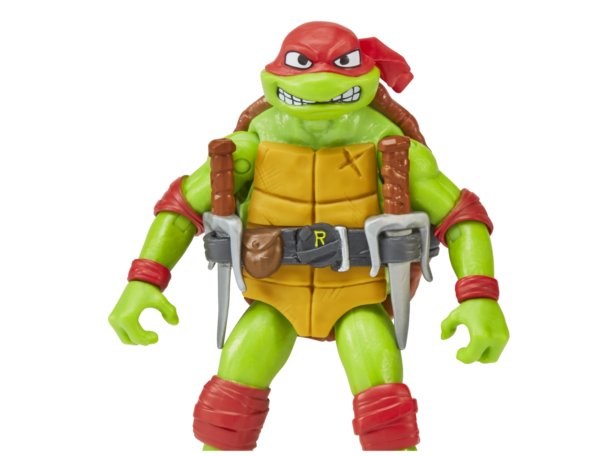 Raphael: The Angry One
Get ready for the Mutant Mayhem figures and accessories, based on the new CG animated Teenage Mutant Ninja Turtles movie! Raphael has a big attitude and big dreams, which are (in no particular order) to punch someone so hard they throw up and to be a mixed martial arts fighter. Together, he and his brothers leave their sewer for the city above, fighting crime and learning that there is no "i" in team (even if Raph insists that there is technically a "me" in it).
AUTHENTIC: Raphael stands 4.6″ tall and is highly detailed with individual sculpting and decoration to match his movie character.
HIGHLY POSEABLE: Raph has 12 points of articulation for great, action-packed battle poses!
ACCESSORIES: Raph comes ready for battle with his iconic twin sai and a separate weapons rack loaded with different accessories and a baby turtle!
READY TO RAGE: When he's not fighting off Shredder and his Foot Soldiers, Raph can slip his sai into his weapons belt for easy access!
MOVIE PACKAGING: Raph comes in a highly decorated blister card package with bright, bold details that includes TMNT Mutant Mayhem movie branding.
COLLECT THEM ALL: Collect all the TMNT Mutant Mayhem action figures and accessories from Playmates Toys, your Teenage Mutant Ninja Turtles Toy Headquarters!