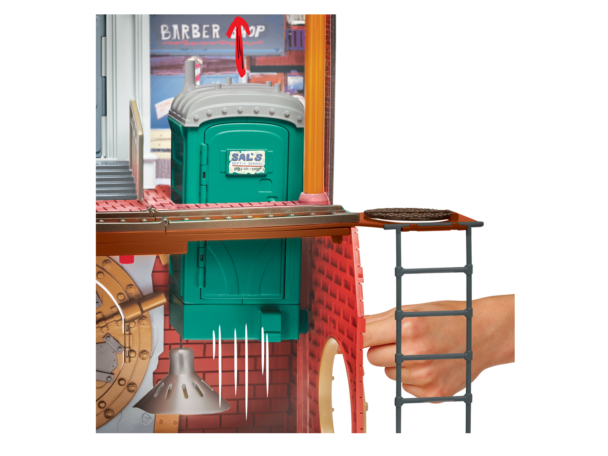 Sewer Lair Playset
While the Turtles may live in the sewers, they still live in style! Their pad (the Secret Sewer Lair) has it all, with over 20 action-packed features—including a dojo where the Turtles train to fight, a zip line, a porta-potty elevator, a secret vault door, slides and false floors, a packet of slimy ooze and so much more!
MODULAR: Playset stands over 25″ tall and is modular in design, so kids can play their way!
ZIP IT, FLY GUY!: Take the zip line from skyline to street level in seconds, and smack down the bad guys!
UP WE GO: Get from the sewers to the streets super fast in the porta-potty elevator!
OOZE PLAY: The playset comes with 2.4 oz of green slimy ooze that can dropped on the baddies from the Ooze Tube or placed in the Ooze Ball and rolled down the tracks to take them out!
PAYPHONE PERISCOPE: Leo can see who's on the street before he lets them into the lair by swiveling his periscope back and forth. It looks like a regular payphone up top, so only those in the know can go!
WANT MORE INFO? Download the TMNT Mutant Mayhem Sewer Lair Playset Instruction Sheet for more details on the playset and its features!
COLLECT THEM ALL: Collect all the TMNT Mutant Mayhem action figures and accessories from Playmates Toys, your Teenage Mutant Ninja Turtles Toy Headquarters!