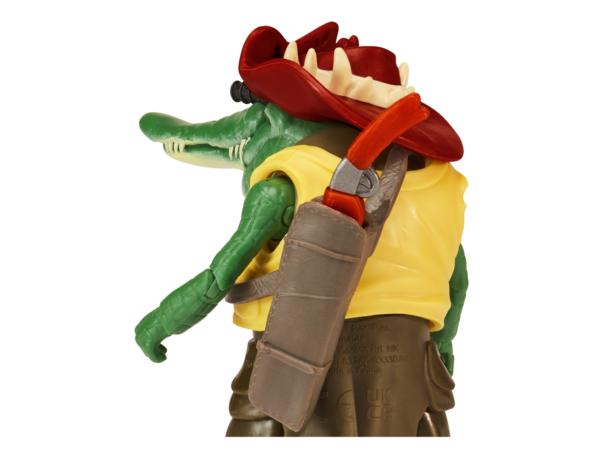 Leatherhead: Rockin' Croc
Get ready for the Mutant Mayhem figures and accessories, based on the new CG animated Teenage Mutant Ninja Turtles movie! Leatherhead might have kept her killer crocodile instincts, but this rockin' croc also makes sure to stick to her roots with an outfit worthy of the Outback. When the evil Super Fly plots to destroy the Turtles and wreak mutant mayhem in the city, Leatherhead is ready and willing to join in the fight!
AUTHENTIC: Leatherhead stands 4.5″ tall and is highly detailed with individual sculpting and decoration to match her movie character.
HIGHLY POSEABLE: Leatherhead has 14 points of articulation for great action-packed battle poses!
ACCESSORIES: Leatherhead comes ready for battle with her powerful blaster and a separate weapons rack loaded with different accessories!
This Rockin' Croc knows that you have to be quick on the draw! So Leatherhead keeps her swamp gun in a handy holster for easy access!
MOVIE PACKAGING: Leatherhead comes in a highly decorated blister card package with bright, bold details that includes TMNT Mutant Mayhem movie branding.
COLLECT THEM ALL: Collect all the TMNT Mutant Mayhem action figures and accessories from Playmates Toys, your Teenage Mutant Ninja Turtles Toy Headquarters!