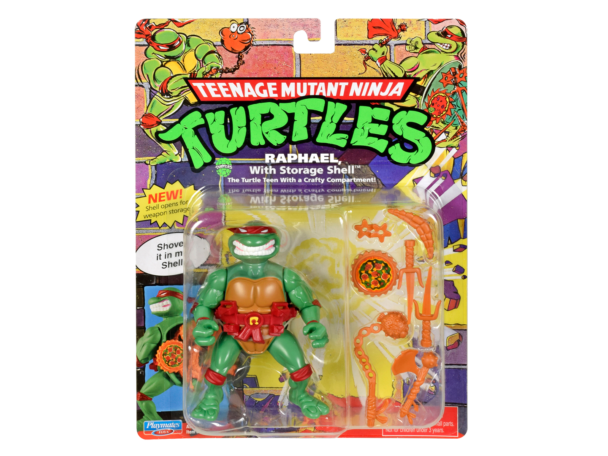 Raphael w/ Storage Shell
Master of the back attack, this 4" Classic Storage Shell Raphael's ready to blast those sewer-soaked Foot fools with everything packed in his shell! This tricky Turtle teen loves to fake out the Foot into thinking he's empty-handed, but we all know better than that! With just a flick of his storage shell, he's got everything a Foot-fighting hero needs! So don't worry when Raph's all alone and surrounded by a hoard of henchmen, because his secret stash of Foot-flipping weapons is always right behind him.
AUTHENTIC: Raph is authentically sculpted and decorated as he appeared in the hit 1980's animated TV show!
FULLY POSEABLE: Storage Shell Raphael stands 4" high and has 7 points of articulation, ready for battle action poses!
ACCESSORIES: Figure comes with two signature sai, two Ninja Throwing Stars, a Manta Axe, Blowfish Mace, Ninja-rang, and Pizza Disc.
CLASSIC PACKAGING: Blister card and original TMNT graphics, just like in the 1980's.
COLLECT THEM ALL: Collect all the TMNT 4" Original Classic Action Figures!